A Cape May B&B Featuring Victorian Elegance with Contemporary Luxuries
---
We would like to welcome you to the The Harrison, a Cape May B&B. Our rooms are appointed with luxurious bedding, elegant wall coverings, opulent lighting, and updated bathrooms with marble floors, and each is individual and unique. We are delighted to invite you to stay with us and step back in time while enjoying modern conveniences.
The Harrison was built in 1867 by wealthy Philadelphian Samuel Harrison as the family's summer residence. The Italianate Style home was designed by architect Stephen Decatur Button who had been previously commissioned to design such important buildings as the Spring Garden Institute and the Romanesque First Baptist Church. It existed as the Summer Cottage before its renovation and relaunch as The Harrison in 2015.
In 2016, The Harrison expanded to encompass a second building, acquiring the historic Pharos Inn next door, renovating and appointing it with the same quality and attention to detail as its sister building.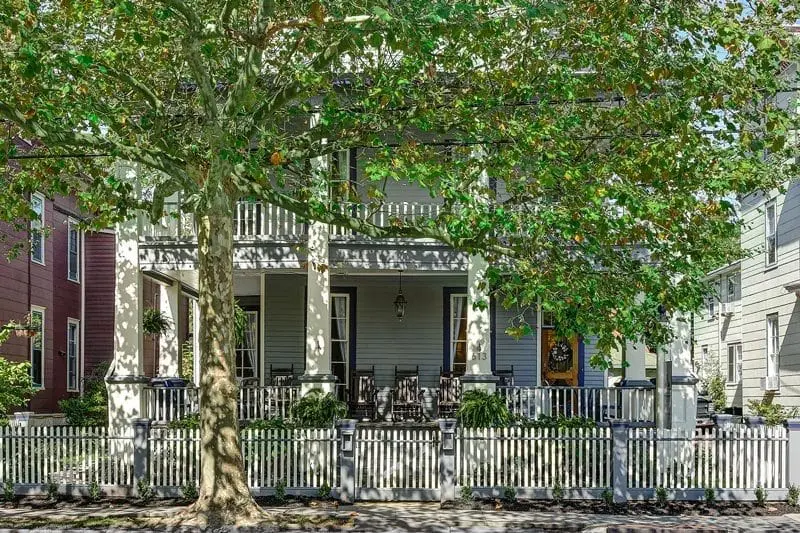 The History of The Harrison
In 1863 the Confederates were defeated at Gettysburg and in 1865 the Civil War ended. Philadelphians like Samuel Harrison were warm and had post war money. When the railroad tracks were laid from Philadelphia to the then Cape Island, new hotels opened and private residences boomed.
The Harrison Inn was commissioned to be built in 1867 as a private summer residence for Samuel Harrison, a wealthy Philadelphian. Stephen Decatur Button, a renowned architect from Connecticut, designed and built the residence in the Italianate Style. Mr. Button played a significant role in designing plans for more than 30 buildings in Cape May. He embraced the picturesque, eclectic and flexible Italianate style.
The distinct cupola on top of the building was a type of Victorian air conditioning. The windows would all be opened and the hot air would be pulled up the center staircase and out the cupola windows. In the parlor the four floor-to-ceiling windows opened allowing easy access to the veranda. The lace curtains were used as screens.
The Harrisons used the small dining room for breakfast and lunch and made reservations for dinner at the fine hotel dining rooms in the city. To help with the children and the running of the cottage, Mrs. Harrison brought her four servants who lived on the third floor of the residence.
At the turn of the century, the walls between the parlor and the sitting room were taken down and support pillars were added where the doorways to each of the rooms used to be. The fireplace in the sitting room was also added. Do you find the beautiful lead glass window above the fireplace unusual? Where is the chimney? The chimney is offset to the right, typical of New England style fireplace. At this time the cottage served as a restaurant and a guest house. The Harrison Inn has been a bed and breakfast in this quaint Victorian town for the last 30 years.